Cherry Balsamic Steak Salad
Recipe by Jaclyn Irwin


Ingredients
Serves 02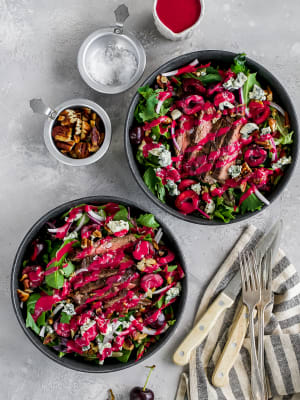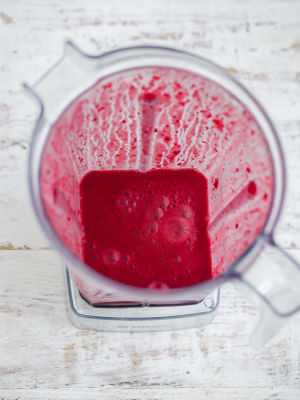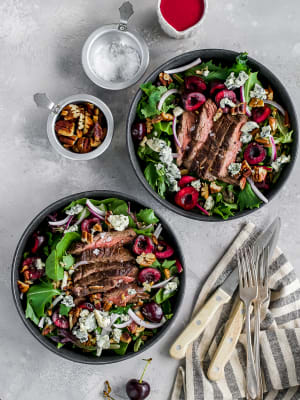 Fresh cherries combine with balsamic and red wine vinegar for a tasty and easy homemade salad dressing. Combined with grilled steak, fresh mixed greens and blue cheese for one epic and filling salad. This recipe is great for gluten free, grain-free, diabetes, and low sugar conditions or diets.
Instructions
1

Heat a cast iron skillet over medium-high heat.

2

Season the steak with salt and pepper.

3

Pour 1 tbsp avocado oil into the skillet and once hot, place the steak on the pan. Cook for about seven to eight minutes on each side, depending on thickness and desired doneness. Remove and set aside on a plate to rest for ten minutes. Once rested, slice in thin strips against the grain.

4

Meanwhile, in a blender, add in the cherries, ¼ cup avocado oil, balsamic vinegar and red wine vinegar and ¼ tsp salt. Blend on high until smooth.

5

In a small skillet over medium-low heat add the pecans and toast until fragrant, about five minutes. Remove and set aside and then roughly chop.

6

Divide the mixed greens onto plates and top with red onion and sliced steak. Sprinkle the blue cheese on top along with the pecans and drizzle with cherry dressing. Enjoy!

7

Substitutions: If you don't have red wine vinegar you can use white wine vinegar or apple cider vinegar.
Notice: Content at this site is not intended to prescribe, treat, mitigate, prevent, diagnose or cure any medical condition or its symptoms, which advice should only be obtained from a qualified health professional.