Cheesy Vegetable Lasagna
Recipe by Fran Allen


Ingredients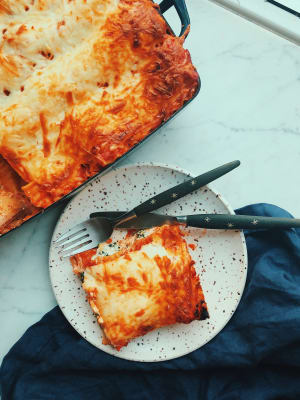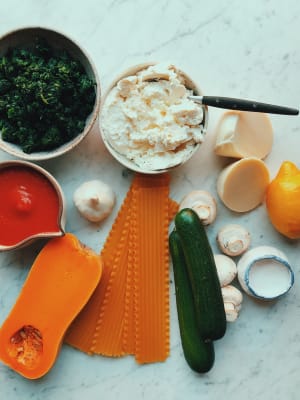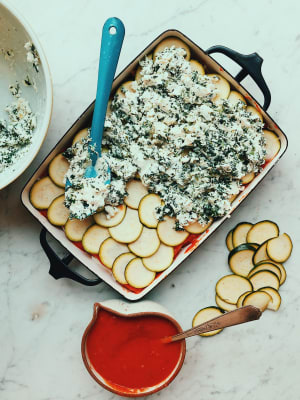 This recipe is classic comfort ungraded with a ton of veggies like squash, zucchini and spinach.
Instructions
1

Preheat the oven to 425F.

2

In a mixing bowl, combine the ricotta, spinach, salt, pepper, lemon zest and juice and olive oil. Set-aside.

3

In a long, medium-sized baking dish, begin to assemble your lasagna. Coat the bottom of the dish with marinara sauce and layer noodles. Top with a layer of vegetables and a sprinkle of mozzarella cheese on top. Repeat this step again.

4

After 2 layers of lasagna, add your ricotta mixture on top. Cover with more noodles, sauce, veggies and cheese.

5

Once completed, cover with parchment paper and make sure to avoid it coming into contact with the cheese. Bake for 30 minutes or until bubbling.

6

Remove the parchment paper and bake again for another 15 minutes until the cheese is melted and golden brown. Remove from heat and allow to set for 15 minutes before serving.

7

*To make gluten free, substitute oven ready noodles for rice noodles or gluten free noodles.

8

*To make plant-based substitute mozzarella cheese with plant based mozzarella cheese and tofu spinach ricotta for the dairy version.
Notice: Content at this site is not intended to prescribe, treat, mitigate, prevent, diagnose or cure any medical condition or its symptoms, which advice should only be obtained from a qualified health professional.