Cheesy Stovetop Popcorn
Recipe by Jaclyn Irwin


Ingredients
Serves 04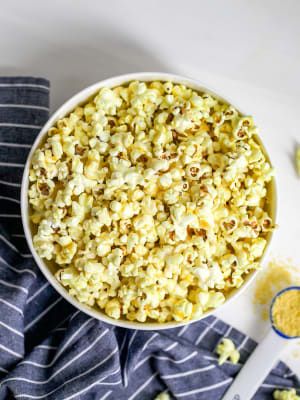 Delicious stovetop popcorn made with coconut oil, nutritional yeast and turmeric.
Instructions
1

In a large pot over medium heat, add the coconut oil. Once melted and hot, add the popcorn kernels and place the lid on, leaving it slightly ajar to allow steam to escape.

2

Shake the pot while cooking, keeping the lid in place for about 3 to 5 minutes, until the kernels have stopped popping, or there is a break in the kernels popping.

3

Remove the lid, add the olive oil or coconut oil and toss to combine, then add the nutritional yeast, turmeric and salt and toss well to combine. Enjoy!

4

Substitutions: No olive oil: use more coconut oil, or grass-fed/organic butter or ghee. No turmeric, omit. More spice, add cayenne pepper or chili flakes.
Notice: Content at this site is not intended to prescribe, treat, mitigate, prevent, diagnose or cure any medical condition or its symptoms, which advice should only be obtained from a qualified health professional.