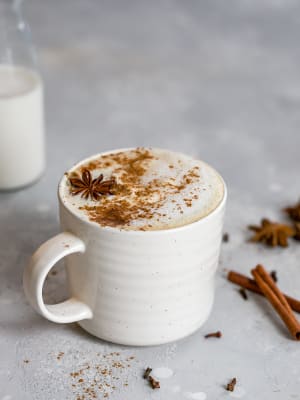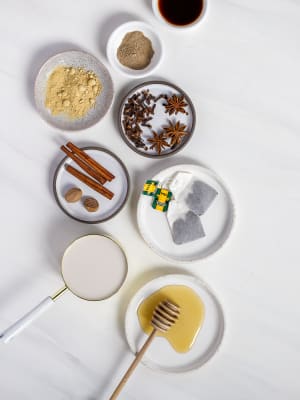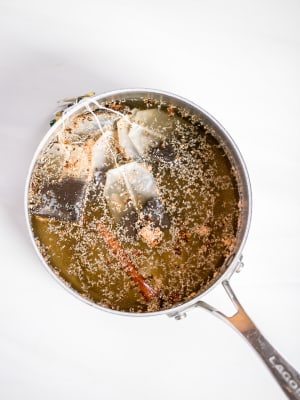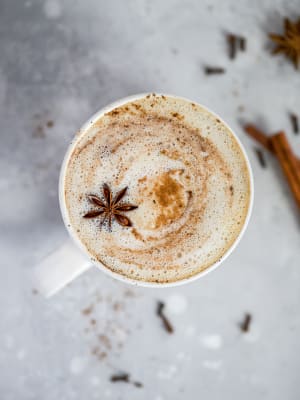 Craving a chai latte? This is the one for you! Warming chai spices, black tea and lots of cinnamon on top. Perfect for cozying up on the couch. Make the chai blend ahead of time and keep it stored in your fridge for an easy DIY chai anytime.
Instructions
1

Add the star anise, whole cloves, cinnamon stick, nutmeg, ginger, water, tea bags and honey to a small saucepan. Bring to a low boil over medium heat and simmer for 10 minutes.

2

Remove the tea bags.

3

Strain the tea into a large bowl or measuring cup and then stir in the vanilla.

4

Meanwhile, heat the milk in a small saucepan until heated through, being careful not to boil it. Use a frother to froth, or pour into a blender and carefully blend until frothy.

5

Pour the chai mix into a mug, filling about half way (this will make 3 to 4 servings), reserve extra in a jar if not using.

6

Pour the almond milk on top.

7

Garnish with cinnamon.
Notice: Content at this site is not intended to prescribe, treat, mitigate, prevent, diagnose or cure any medical condition or its symptoms, which advice should only be obtained from a qualified health professional.