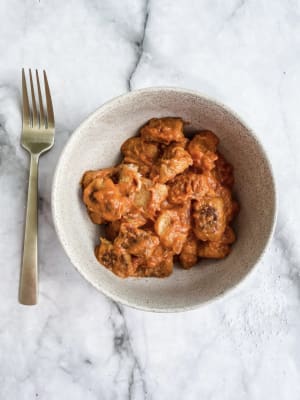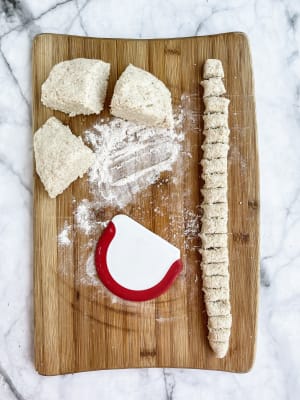 This 3-ingredient cauliflower gnocchi is just as pillowy-on-the-inside and crispy-on-the-outside as traditional gnocchi, with the added health benefits of being made from cauliflower. This dish is a great lower-carbohydrate option for those with hormonal issues such as PCOS and to prevent blood sugar spikes. Making your own homemade gnocchi is surprisingly easy with this recipe. Cauliflower, flour and salt are combined in a food processor, rolled and cut into bite-sized gnocchi, pan fried and topped with a delicious sauce!
Instructions
1

Bring large pot of water to boil over high heat. Add cauliflower and cook for 5-7 minutes until fork tender. Drain.

2

Add raw cashews to a bowl and cover with boiling water to soak.

3

Allow cauliflower to cool for 10 minutes. Wrap cauliflower in a tea towel and squeeze as much excess water out of cauliflower as possible.

4

Add cauliflower to a food processor and pulse until the cauliflower is in small crumbles. Add flour and salt and pulse until a soft, sticky dough forms.

5

Add cauliflower dough to a floured work surface. Cut into 4 equal sections. Roll each section into a thin rope and cut each rope into bite-size gnocchi pieces.

6

Split gnocchi into two equal batches. Heat a large non-stick skillet over medium heat. Add a tablespoon of oil and first batch of gnocchi and cook until browned, approximately 5 minutes, turning halfway. Repeat with the second batch of gnocchi. Add a slash of water at the end of cooking to finish cooking the gnocchi throughout.

7

Drain cashews and add cashews with water to a blender and blend until smooth to create a cashew cream. Add marinara and stir until combined.

8

Add your sauce to the pan with the gnocchi. Toss to combine. Serve immediately and enjoy!

9

Substitutions: Substitute gluten-free flour 1:1 for whole wheat flour if gluten free. Swap blush sauce for marinara or pesto sauce instead. Swap all-purpose flour for whole wheat flour if you prefer!
Notice: Content at this site is not intended to prescribe, treat, mitigate, prevent, diagnose or cure any medical condition or its symptoms, which advice should only be obtained from a qualified health professional.