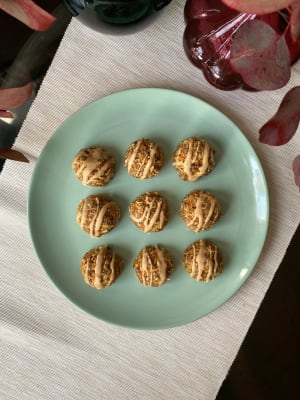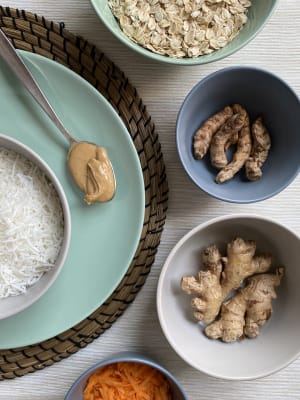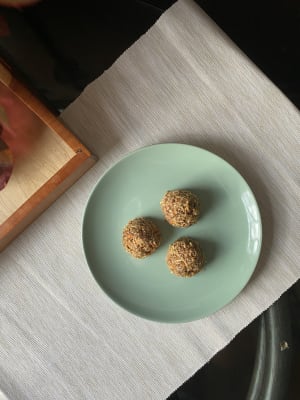 These dreamy bites are the perfect warming snack to keep on-hand, especially during the colder months. Sweet medjool dates are paired with oats and flax, for fiber, and coconut and cashew butter, for some healthy fats, to make sure you get the sustained energy you need to power through your day.
Instructions
1

Preheat oven to 300 F.

2

Whisk together equal parts of ground flax and water. Let the flax mixture sit.

3

Finely chop the dates, or pulse them in a food processor to break them up. Combine the dates with the oats and coconut. Mix well enough to break up any big date clumps.

4

Add in shredded carrot, ginger and turmeric and all other spices. Mix lightly.

5

Next, melt the coconut butter over low heat in a pot. Once it is melted, remove the coconut butter from the heat and quickly whisk in cashew butter. Set 3 tbsp of this mix aside for later as a topping.

6

Take the flax mixture and whisk it into the coconut cashew butter blend. Then fold this mix into your other bowl. You don't want to over mix this, just stir enough until all ingredients are distributed evenly.

7

Line or light grease a baking tray. Using a spoon, or a medium cookie scoop, take about 2 tbsp of the dough at a time and work it into a round ball. Repeat this step until all the dough is used. Bake bites in the oven for 15 minutes.

8

Remove the bites from the oven and let them cool thoroughly. You can pop them in the fridge for 10 minutes to speed up this process. Once the bites are cool, drizzle the remaining, now slightly cool but still melted, coconut cashew butter blend over top.
Notice: Content at this site is not intended to prescribe, treat, mitigate, prevent, diagnose or cure any medical condition or its symptoms, which advice should only be obtained from a qualified health professional.