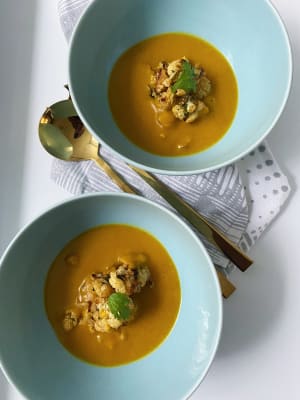 This butternut squash and roasted cauliflower soup will be sure to keep you warm and satiated throughout the fall and winter seasons.
Instructions
1

In a bowl toss the cauliflower, olive oil, cilantro and salt together; and on one even layer, bake on a baking sheet for 25 minutes, or until well browned.

2

Meanwhile, in a thick bottom pot, melt the butter and heat the oil on medium heat. Add the onion, ginger and squash and cook for 5 minutes, until the squash begins to caramelize.

3

Add the salt, curry and cinnamon and cook to toast the spices, about 1 minute.

4

Add the chicken stock and bring to a boil, reduce to simmer and cook for an additional 15 minutes, or until the butternut is tender.

5

Remove from heat and cool for 5 minutes; then add to a blender and blend until smooth.

6

To serve, garnish with roasted cauliflower.
Notice: Content at this site is not intended to prescribe, treat, mitigate, prevent, diagnose or cure any medical condition or its symptoms, which advice should only be obtained from a qualified health professional.