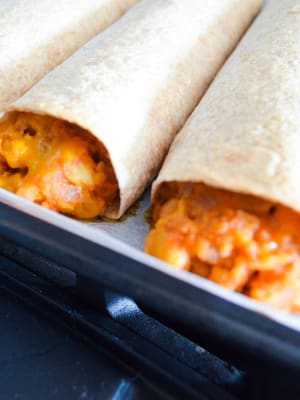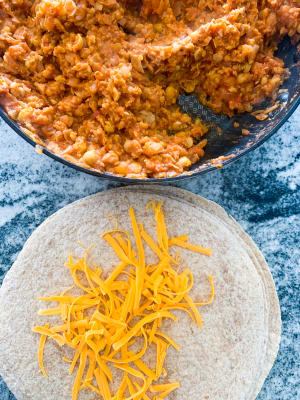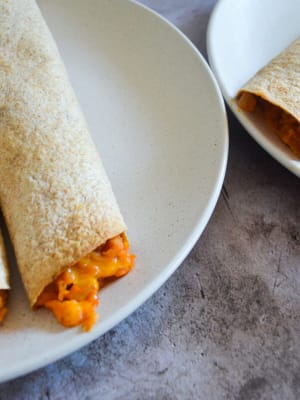 This buffalo chickpea taquito recipe is a great plant-based substitution for buffalo chicken fingers, with a lot less fat and a lot more fiber! You can easily adjust the spice level to make it a great option for the entire family. This buffalo chickpea filling is made from, you guessed it…chickpeas! The chickpeas are cooked with onion, tomato and buffalo hot sauce for flavour, and a dash of balsamic vinegar to add a touch of sweetness. The result is mouthwatering and versatile.
Instructions
1

Preheat the oven to 400-degrees fahrenheit.

2

Sauté the onion in 1 tbsp of oil in a large pan on medium high heat, until soft and translucent, about 5 minutes.

3

Add the garlic to the onions and sauté until fragrant, another 1-2 minutes.

4

Drain, thoroughly rinse and dry the chickpeas. Add the can of chickpeas, tomato sauce, buffalo sauce, balsamic vinegar, plant-based milk, garlic and onion powder and S&P to the onions and garlic and bring to a boil. Reduce heat and simmer for 5 minutes.

5

Once chickpeas are softened, roughly mash the entire mixture in the pan with a potato masher or fork. The mix should be chunky, not completely smooth.

6

Divide the buffalo chickpea mixture equally between the 6 large whole wheat tortillas and sprinkle with cheddar cheese. Roll the tortillas tightly. Brush the exterior of the tortilla with a small amount of oil. Place the tortillas on a lined baking tray. Cook for 15 minutes, until lightly browned.

7

Substitutions: Gluten-free? Substitute the whole wheat tortilla for a gluten-free or corn tortilla. Plant based? Substitute vegan cheese for the cheddar cheese. Not a fan of spice? Replace the buffalo hot sauce with tomato sauce. Like it extra spicy? Replace a ¼ cup of the tomato sauce with more buffalo hot sauce!
Notice: Content at this site is not intended to prescribe, treat, mitigate, prevent, diagnose or cure any medical condition or its symptoms, which advice should only be obtained from a qualified health professional.