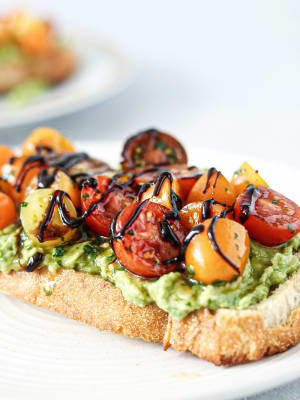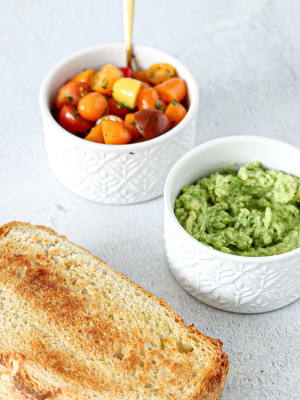 Classic avocado toast is delicious but kicking it up a notch this way, will make your tastes buds even happier. Avocados are a favourite in the wellness world, for good reason. They are mostly noted for their healthy fat content as well as high fibre content. Beneficial for balancing hormones, preventing diabetes and insulin resistance.
Instructions
1

Preheat oven to 400 degrees F and place sourdough bread on baking sheet.

2

Using 1 tablespoon of olive oil, brush on top of each piece of bread or put on your hands and rub on the bread.

3

Take 1 garlic clove peeled and rub it all over each piece of bread.

4

Bake for 10 minutes.

5

While bread is toasting: In a small bowl, mash avocado and add three cloves of minced garlic, lime juice and sea salt. Mix to combine.

6

In another small bowl, add the tomatoes, 1.5 tablespoons of olive oil, basil and salt. Mix to combine.

7

Spread half of the avocado mash on each piece of toast.

8

With a spoon, add tomatoes to each piece of toast.

9

Substitutions: You can use gluten free bread instead of sourdough. If you don't have cherry tomatoes you can use regular and dice them.

10

Optional: Add a balsamic drizzle
Notice: Content at this site is not intended to prescribe, treat, mitigate, prevent, diagnose or cure any medical condition or its symptoms, which advice should only be obtained from a qualified health professional.