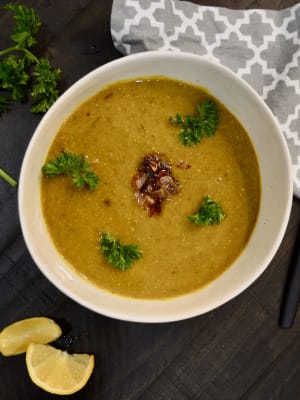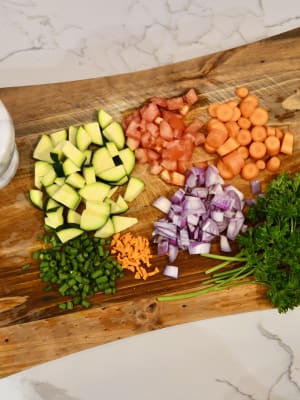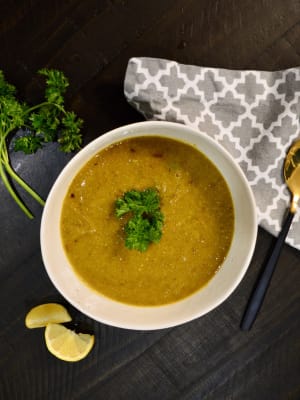 This soup is rich in nutrients and minerals from the vegetables and bone broth used to make it. The high level of minerals is promoting alkalinity in the body, while the fresh turmeric root adds additional anti-inflammatory properties to it. It's great for digestive health and promoting healing to the intestinal lining. Meat broth can be omitted, making this recipe plant based and suitable for all.
Instructions
1

Place a large pot on the stove and turn it to high heat.

2

Pour broth into the pot and bring it to a boil.

3

Add lentils, zucchini, peas, carrots, tomatoes, and turmeric root.

4

Simmer on medium heat for 30 minutes.

5

Using a hand blender, puree all ingredients in the pot.

6

Put a pan on medium heat and heat avocado oil.

7

Saute onions first and then noodles until they are both slightly brown.

8

Add boiled water into the pot and mix

9

Put onion and noodles into the soup mixture and simmer for another 15 minutes.

10

Take the pot off the heat and mix in parsley, lemon juice, salt and pepper.

11

Garnish with leftover parsley and fresh cracked pepper. Eat with crackers or olive oil toasted bread.

12

Note: green, brown and/or red lentils may be used in this soup. Green lentils cook slower and should be soaked for a few hours prior or overnight as they are tougher (and take longer) to cook. Brown and red lentils are softer and don't need to be soaked for this recipe.
Notice: Content at this site is not intended to prescribe, treat, mitigate, prevent, diagnose or cure any medical condition or its symptoms, which advice should only be obtained from a qualified health professional.