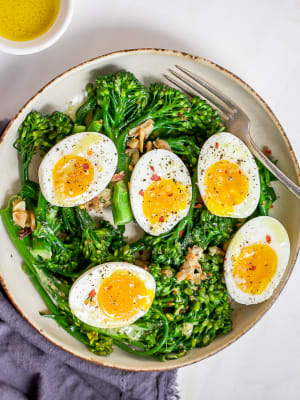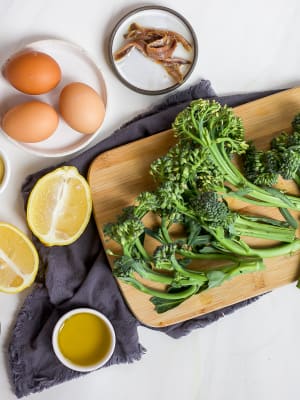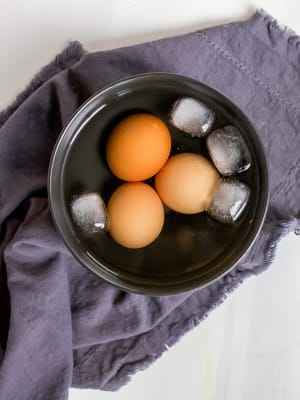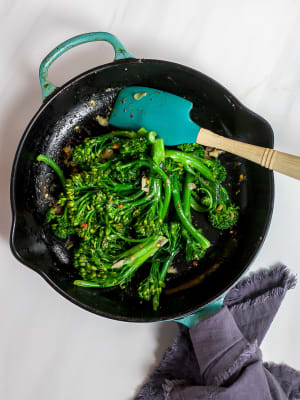 A simple and easy way to enjoy broccolini is to quickly blanch it and then saute it with garlic and anchovies for a savoury and delicious salad. Top it with jammy medium-boiled eggs for added healthy fats and protein.
Instructions
1

Bring a medium sized pot of water to a boil. Once boiling, add the broccolini and cook for 1 minute. Remove with a slotted spoon and place in a sieve and run cold water over top to stop it from cooking.

2

In the same pot of boiling water, slowly lower the eggs and reduce to a low boil. Cook for 7 ½ minutes for medium boiled eggs. Remove the eggs with a slotted spoon and place in a bowl filled with ice water.

3

Meanwhile, add half the olive oil, lemon juice, dijon mustard to a small bowl and whisk to combine. Season with salt and pepper.

4

Remove the eggs, peel them and cut them in half.

5

Heat a skillet over medium heat and add the remaining oil, and then add the garlic, chili flakes and anchovies. Stir to combine and cook until fragrant. Add the broccolini back in and toss to combine.

6

Divide the broccolini onto plates and top with the halved eggs. Season with salt and pepper.

7

Substitutions: No anchovies, omit. No broccolini, use broccoli instead.
Notice: Content at this site is not intended to prescribe, treat, mitigate, prevent, diagnose or cure any medical condition or its symptoms, which advice should only be obtained from a qualified health professional.