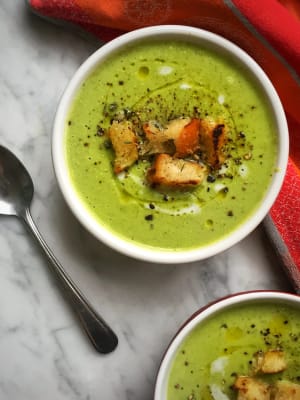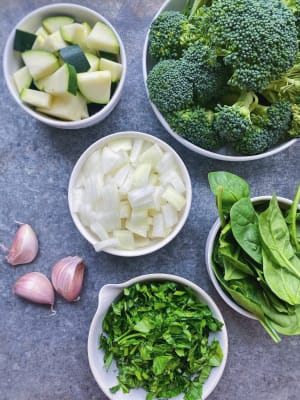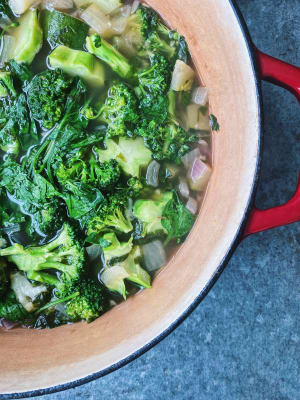 A delicious, filling soup that is both dairy-free and gluten-free. This soup contains healthy fats, fiber, and a source of protein. Broccoli is a great source of vitamins K and C, a good source of folate (folic acid). Vitamin C – builds collagen, which forms body tissue and bone, and helps cuts and wounds heal.
Instructions
1

In a large stockpot, heat coconut oil over medium heat. Add onion, and garlic. Sprinkle with 1 tsp salt. Sauté until the onion is translucent and just tender, about 5 minutes. Add parsley, cauliflower and zucchini and cook for another 3 mins.

2

Add water and either vegetable broth or bone broth. Bring the pot to a boil. Add broccoli, reduce heat to a simmer and let cook for 5 minutes.

3

Add nutritional yeast, spinach and mustard. Remove from heat and allow it to cool for 5 mins.

4

Transfer the soup to a blender add the hemp hearts and blend on high until smooth.

5

Divide into bowls and garnish with lemon juice, olive oil, and salt and pepper to taste.

6

Substitutions: Option to use a can of coconut milk instead of 2 cups of water. Use bone broth for an even healthier, protein packed version. Add gluten free croutons for a more filling version.
Notice: Content at this site is not intended to prescribe, treat, mitigate, prevent, diagnose or cure any medical condition or its symptoms, which advice should only be obtained from a qualified health professional.