Broccoli Chickpea Frittata cups
Recipe by Jennifer Barr


Ingredients
Serves 12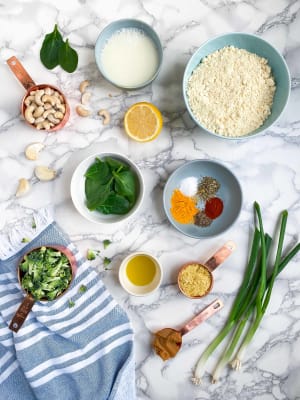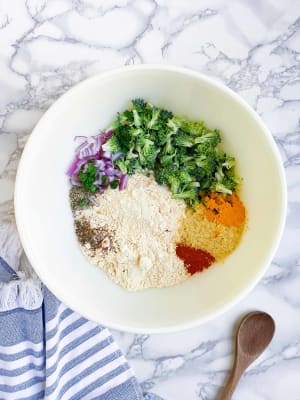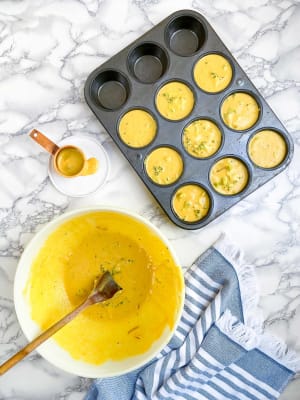 Start your morning with these veggie-protein packed plant based frittata cups! Loaded with a healthy dose of fat, fibre and protein. A savoury breakfast alternative that will keep you satiated until lunch and your blood sugars stabilized. These make for the perfect lunch sidekick or an any time of day snack too!
Instructions
1

Prep: Place cashews in a bowl and cover with water. Let them soak for 4 hours prior or overnight before making the cheezy sauce for the frittata cups.

2

Preheat oven to 375 degrees F and prepare your muffin tray, lightly grease the cups with a little bit of coconut oil so the frittatas don't stick.

3

Place the cashews, almond milk, filtered water, chopped garlic, melted coconut oil, miso paste, 2 tbsp of nutritional yeast and lemon juice into a high speed blender. Blend until fully combined, set aside.

4

In a large bowl combine, the chopped broccoli, red onion, spinach, green onion, chickpea flour, olive oil, baking powder, nutritional yeast, turmeric, orega-no, paprika, sea salt and pepper. Mix it all together. Pour the blended liquid 'cheezy' sauce into the large bowl and mix until everything is evenly combined and there are no chickpea flour clumps.

5

With a 1/3 cup, scoop the batter into the greased muffin tray filling all 12 cups. Top with extra chopped chives, green onion, spinach, broccoli bits, salt and pepper.

6

Place in the oven, on the centre rack and bake for 30-35 minutes. After the 35 minute mark, stick a toothpick into the centre of a muffin, if it comes out clean, the frittatas are ready. If not, place back into the oven for an additional 2-5 minutes. The frittata will firm up as they cool so if the middle is a little undercooked after those additional minutes, that is normal.

7

Remove from the oven, let them sit for 5-10 minutes and place on a cooling rack. Store in a tightly sealed container in the refrigerator for up to 5 days.

8

Substitutions: If there are some Nightshade vegetables or other vegetable within the recipe that are not allowed on your specific diet you can change the vegetable ingredients to suit any dietary needs. Just keep the dry ingredients the same and the frittatas will turn out just as tasty.
Notice: Content at this site is not intended to prescribe, treat, mitigate, prevent, diagnose or cure any medical condition or its symptoms, which advice should only be obtained from a qualified health professional.