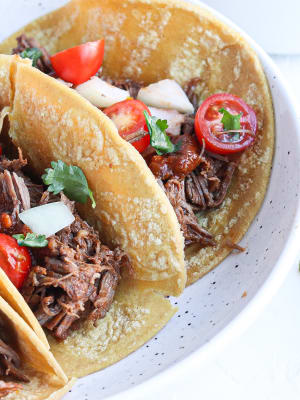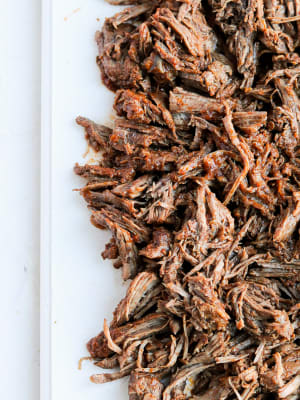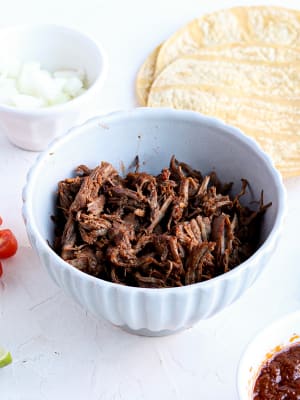 Quality beef has many health-promoting nutrients like CLA (Conjugated Linoleic Acid), a healthy fat that has been shown to be protective for your heart. Along with CLA, bone broth contains protein and collagen, both of which are essential for healthy joint function. You're also consuming nutrients like zinc, iron, and several B vitamins. Bone broth is beneficial for supporting gut health, immune health, and bones and joints.
Instructions
1

In a small bowl, add the chili powder, paprika, garlic powder, onion powder, cayenne pepper and sea salt. Mix to combine.

2

Cut meat into 4 pieces and place in a large bowl. Take about 3 heaping teaspoons of the spice mix and rub it all over the beef.

3

Heat a large deep pot or dutch oven, over medium-high heat. Add in olive oil.

4

Once the oil is warm, add the pieces of beef and brown well on each side. Once browned, remove from the pot and set aside.

5

Add onions and garlic and saute for about 3-5 minutes. Stir occasionally. If needed, add a little bit of water if things start to stick.

6

Add the can of crushed tomatoes, bone broth, water and the rest of the spices and stir.

7

Add the beef back in and the bay leaves.

8

Cover and turn the heat down to medium-low until you get a nice rolling simmer, not too much bubbling.

9

Reduce heat to low and simmer for 2-2.5 hours. Check on the beef every 15-20 minutes or so just to make sure there is enough liquid.

10

Once done, remove the beef from the pot but keep the heat on. Simmer the liquid for about 10-15 minutes extra to get a sauce. The liquid will thicken.

11

Shred beef with two forks. It should fall apart easily! Add some sauce on top and mix in or use it to top your tacos.

12

Serve with what you like! Diced onions, tomatoes, salsa, sour cream, lime juice, cilantro and/or pickled jalapenos.

13

Substitutions: Use tortillas of your choice or use lettuce as your tortillas. If you don't want to use tortillas at all, serve beef on the side with veggies or on top of a salad.
Notice: Content at this site is not intended to prescribe, treat, mitigate, prevent, diagnose or cure any medical condition or its symptoms, which advice should only be obtained from a qualified health professional.