Brain Boosting Miso Salmon Bowl
Recipe by Julia Gibson


Ingredients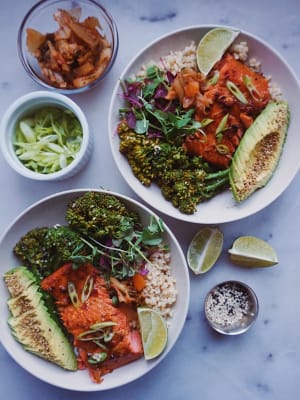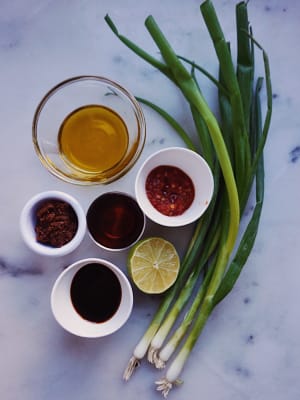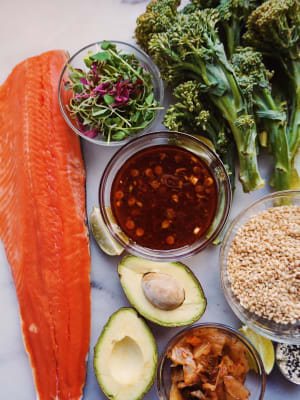 Feeling brain-fogged? This miso salmon bowl will help provide plenty of omega-3, a fatty acid which is highly beneficial to brain health. Salmon is also a great source of vitamin B12, which is vital for healthy nerves and blood vessels.
Instructions
1

Marinate Salmon: In a small bowl, combine the maple syrup, miso paste, tamari, lime juice, olive oil, green onion, sambal Oelek and garlic clove. Place salmon in either a ziplock bag, or shallow baking dish, and pour the marinade over it. Marinate, covered or sealed, for at least 1 hour, the longer the better.

2

Cook brown rice according to package instructions. Preheat oven to 400 degrees Fahrenheit and line a baking sheet with parchment paper. Once the oven is hot, place the salmon on the baking sheet and bake for 10-15 minutes, until cooked through.

3

While the salmon is in the oven, steam the broccolini for 8 minutes, then toss with sesame oil and seeds.

4

Plate: Cut the salmon into 5 equal pieces. Divide the rice among 5 dishes, and top with sesame broccolini, salmon, a handful of micro greens, sliced avocado, green onions, kimchi and gomasio.

5

Substitutions: You can sub Gomasio for extra sesame seeds. If you don't like maple syrup, use honey instead. You can sub tamari for soy sauce or coconut aminos. To make it grain free use cauliflower rice instead of brown rice. Option to use regular broccoli in place of broccolini.
Notice: Content at this site is not intended to prescribe, treat, mitigate, prevent, diagnose or cure any medical condition or its symptoms, which advice should only be obtained from a qualified health professional.