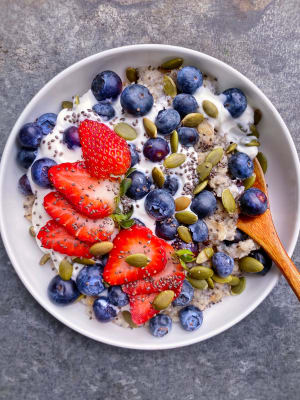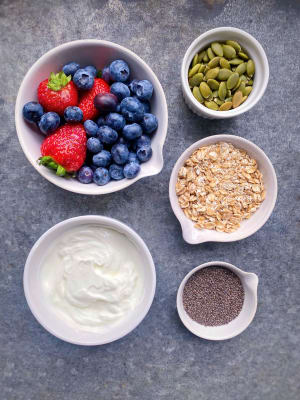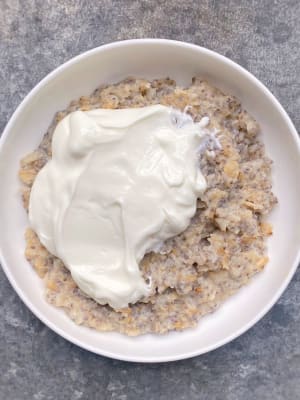 An upgrade on a classic breakfast. Low in sugar and filled with fiber, healthy fats, and protein. This hardy and warming breakfast will keep you full all the way until lunchtime.
Instructions
1

Start by measuring the oats and liquids. The ratio is 1:2. The usual serving size is 1/2 cup oats to 1 cup of water, milk or combination of both. We like combining 1/2 a cup of water and 1/2 a cup of (dairy free) milk for the best consistency.

2

Bring the liquid to a boil in a small saucepan. Then reduce the heat to low and pour in the oats and chia. Allow them to cook until they thicken and absorb all the liquid, stirring frequently. It will take about 5 minutes.

3

Top with yogurt, berries and pumpkin seeds.

4

Substitutions: Substitute greek yogurt for coconut yogurt to make it dairy free. Omit yogurt completely if desired. Add raw honey for a little extra sweetness. No fresh berries? Use frozen instead.
Notice: Content at this site is not intended to prescribe, treat, mitigate, prevent, diagnose or cure any medical condition or its symptoms, which advice should only be obtained from a qualified health professional.