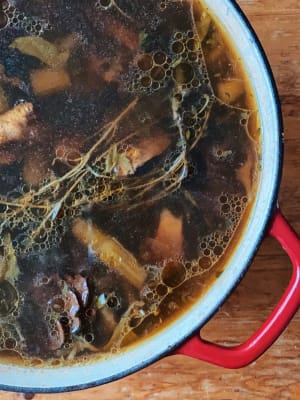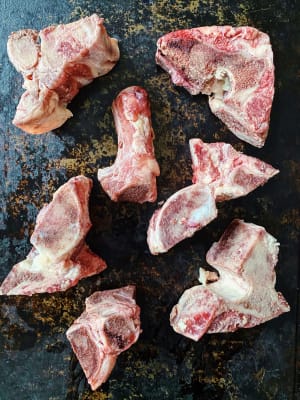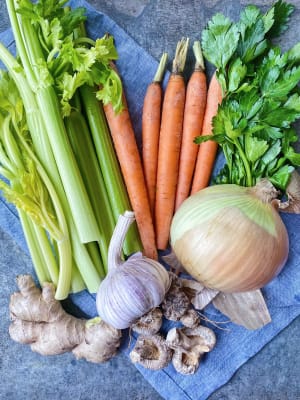 Great for digestion and gut health, this beef bone broth recipe is full of gelatine, an amazing emerging remedy for those with IBD. It also contains collagen, which benefits hair, skin, nails, and joint health.
Instructions
1

Preheat the oven to 450°F. Place beef bones on a roasting pan or rimmed baking sheet. Roast for 40 minutes, flipping halfway through.

2

Fill a large stockpot with 12 cups of filtered water. Add celery, parsley, peppercorns, vinegar, salt, ginger and mushrooms. Scrape the roasted bones into the pot along with any juices. Make sure bones and vegetables are covered, adding more water if necessary.

3

Cover the pot and bring to a gentle boil. Reduce heat to a very low simmer and cook with the lid slightly ajar. Cook for 8-24 hours, skimming the foam and excess fat off throughout the process. Do not leave the pot on the stove top unattended, simply cool and continue simmering the next day. The longer you simmer it, the better your broth will be. Add more water if necessary to ensure bones and vegetables are fully submerged at all times. Alternately, you can cook the broth in a slow cooker on low for the same amount of time.

4

Remove the pot from the heat and let cool slightly. Strain broth using a fine-mesh sieve and discard bones and vegetables. Let cool completely, then refrigerate in smaller containers overnight.

5

Broth can be stored for up to 5 days in the refrigerator and up to 6 months in the freezer.

6

Optional: Add different herbs depending on your preference such as bay leaves, turmeric, lemongrass, thyme, rosemary or sage to name a few
Notice: Content at this site is not intended to prescribe, treat, mitigate, prevent, diagnose or cure any medical condition or its symptoms, which advice should only be obtained from a qualified health professional.