BBQ Chicken Stuffed Sweet Potatoes
Recipe by Tina Gravalos


Ingredients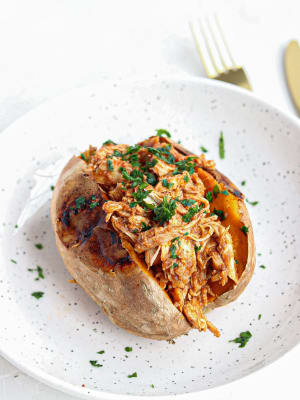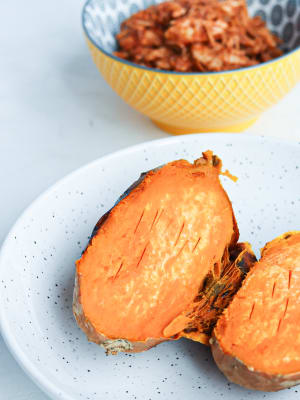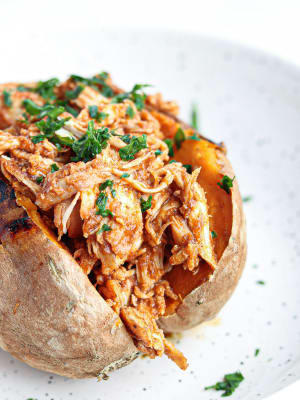 With only 5 ingredients, this meal is so simple and involves no cutting or chopping! It's super delicious, nutritious and clean up is minimal. Win win! One cup of baked sweet potato has over 200% of your daily intake of Vitamin A. It also has high amounts of Vitamin C, copper and several B vitamins. Small, but mighty! It contains beta-carotene, a powerful antioxidant known to support eye health. It also supports respiratory and immune health.
Instructions
1

Preheat oven to 400 degrees F and line a large baking sheet with parchment paper.

2

In a bowl, add the chicken and season with salt and pepper.

3

Place on one side of the baking sheet.

4

Grab the sweet potatoes and a fork and pierce them all over. Place on the other side of the baking sheet.

5

Bake for 45-50 minutes or until the sweet potatoes are soft. The chicken will likely be done before 45 minutes. Bake the chicken for about 25-30 minutes or until cooked through. Cooking time for the chicken will depend on the size.

6

Remove pan from oven, take out the chicken breasts and then put the pan back in the oven.

7

Shred chicken with two forks and put in a bowl. You can either pour the BBQ sauce on top and mix to completely coat the chicken or you can heat up the BBQ sauce first and then pour it on top. Whatever your preference is!

8

Once the potatoes are done, slice down the middle but not all the way down. Open them up a little bit and then stuff with shredded chicken.

9

Serve with your favourite salad.

10

Store in an airtight container in the fridge for up to 3 days.
Notice: Content at this site is not intended to prescribe, treat, mitigate, prevent, diagnose or cure any medical condition or its symptoms, which advice should only be obtained from a qualified health professional.