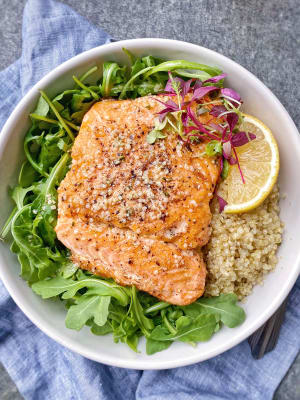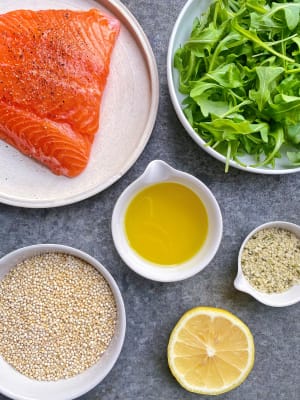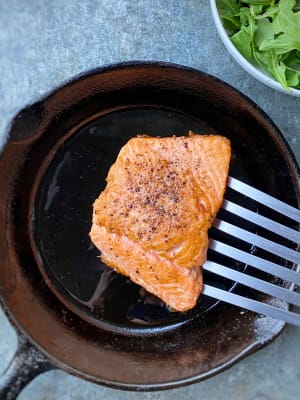 This simple bowl is packed with goodness. From the Arctic char, which is a less milder fish than salmon, to the spicy arugula, it has everything you need in one dish. The best part about this meal is you can use it as a template. Don't have quinoa? Swap in rice. Don't eat fish? Swap in chicken or tofu!
Instructions
1

Rinse quinoa using a fine mesh strainer, then drain it completely.

2

Place quinoa in a saucepan with water. Bring to a boil, then reduce the heat to low. Cover the pot and simmer where the water is just bubbling for about 10 minutes, until the water has been completely absorbed. (Check by pulling back the quinoa with a fork to see if water remains.)

3

Turn off the heat and let sit with the lid on to steam for 5 minutes, then fluff the quinoa with a fork. Add sea salt and pepper to taste.

4

Heat the oil in a cast-iron skillet or nonstick pan over medium-low heat. Season the fish well with salt and pepper. Cook skin side down and undisturbed for 7 minutes. The fillets will cook from the bottom up so that the flesh stays moist while the skin gets so crisp that it crackles; if the skin becomes crisp before the top of the fish finishes cooking (it should look just opaque), flip it over and cook very briefly to finish.

5

In a bowl add arugula, quinoa and Arctic Char Fillet. Sprinkle hemp hearts on top and drizzle with olive oil and lemon. Garnish with sprouts if available.

6

Substitutions: Sub fish for another protein such as chicken breast, steak or a fried egg. Add herbs and spices depending on your taste preference such as basil or parsley. Add an extra healthy fat like avocado. Sub cauliflower rice for quinoa to make it grain free.
Notice: Content at this site is not intended to prescribe, treat, mitigate, prevent, diagnose or cure any medical condition or its symptoms, which advice should only be obtained from a qualified health professional.