Allergen Friendly Vegan Stuffing
Recipe by Jaclyn Irwin


Ingredients
Serves 06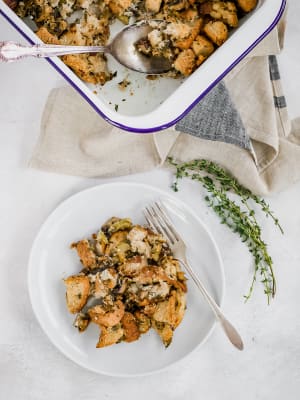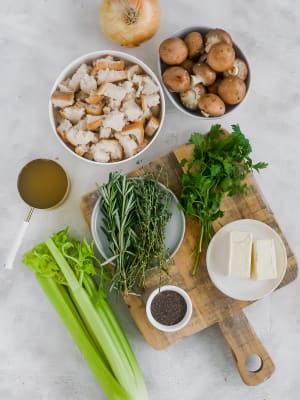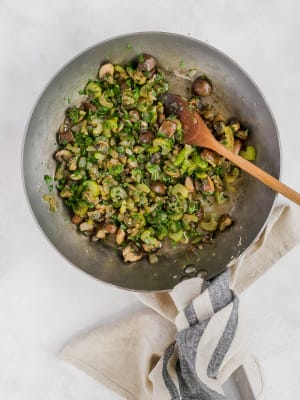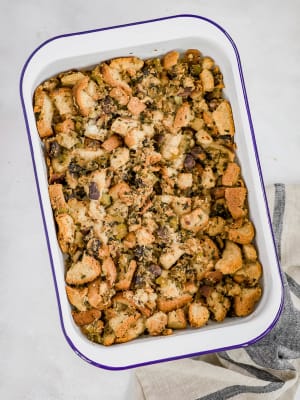 If you're looking for an allergen friendly stuffing recipe, this is it! It may be gluten-free, dairy-free and vegan, but it's packed with flavour.
Instructions
1

Preheat the oven to 250ºF. Place the torn bread on a large rimmed baking sheet and bake for 30 minutes to dry out the bread even more and get it a little toasted.

2

Meanwhile, in a large skillet over medium heat melt the butter. Add the mushrooms, onion and celery and cook until the onions start to brown and the mushrooms have released some water, about 15 to 18 minutes.

3

Add the garlic, thyme and rosemary to the skillet and toss to combine, until the garlic is fragrant, about five minutes. Remove from the heat and add the parsley and salt and pepper and toss to combine.

4

Grease a 13 x 9 x 2" baking dish with butter. Increase the oven temperature to 350ºF.

5

Remove the bread and add to a very large bowl along with the cooked vegetables. Pour in the broth and gently toss to combine. Transfer to the prepared baking dish and cover with foil.

6

Place in the oven to bake for 30 minutes. Remove from the oven and take off the foil and place back in the oven to cook and brown for an additional 35 to 40 minutes.

7

Remove from oven and let cool slightly before serving. Enjoy!

8

Substitutions: No vegan butter: use olive oil. More herbs: add sage.
Notice: Content at this site is not intended to prescribe, treat, mitigate, prevent, diagnose or cure any medical condition or its symptoms, which advice should only be obtained from a qualified health professional.